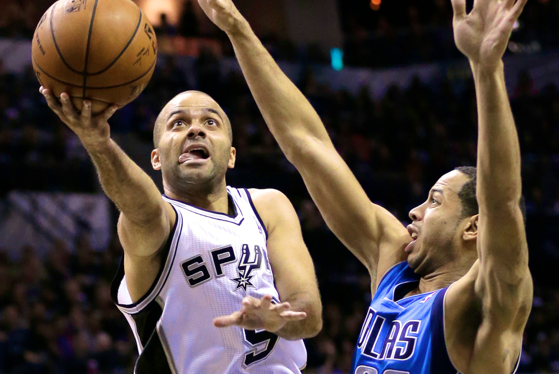 Ray Allen scored 10 points in the first quarter and team effort by the Spurs was matched by the Mavericks in a tight period, 26-29.
The Mavericks sparked a 9-0 run to begin the next quarter, but the Spurs responded with a 7-0 run, only for Dallas to end the quarter on a 11-2 run for a 54-52 lead at halftime.
The Spurs carried on the theme with a 10-2 run to begin the second half, powered by two dunks by Kawhi Leonard. A run by Dallas reclaimed the lead, but SA recovered to lead 80-76. Tony Parker had a strong second half showing.
The Spurs got hot in the 4th quarter, pulling away 88-101 and two three-pointers by Ray Allen. Mavericks were outscored 22-35 in the final period.
Tim Duncan had 20 points and 12 rebounds, Ray Allen had 19 points, Tony Parker as well, and Leonard had 17. Danny Green and Andrei Kirilenko combined for 21 points.
In the losing effort, Deron Williams had 22 points (9-22) and Wes Matthews also had 22 (7-17, 3-10 from 3PT). Unlike Tim Duncan's strong play, Dirk Nowitzki struggled with only 10 points.