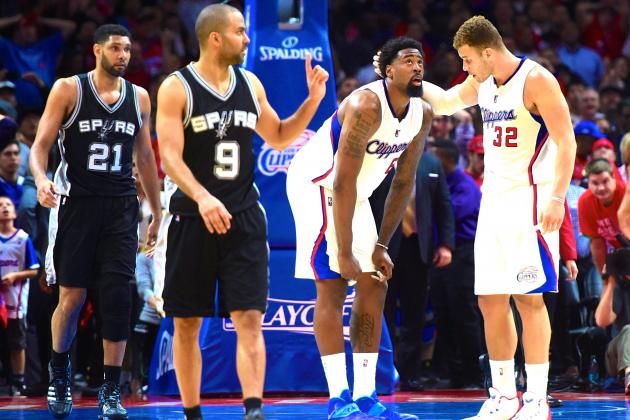 The Spurs avenged their first home loss to the Clippers, by returning the favor in Los Angeles.
It was 26-24 after the first quarter, before an 11-3 run by SA, only for LAC to jump out by 5, before Kawhi Leonard hit a buzzer beater.
This was followed by a Diaw screen in the second quarter that led to a monster jam by Leonard AND the foul to retake the lead.
Josh Smith got a put-back dunk of his own, still showing his hops, and CP3 dished several 'oops' to Blake Griffin, but not with the force of the slam by Andrei Kirilenko over Griffin. It was 45-40, LAC, before an 11-0 SA run made it 54-55 at the half.
Clippers would retake the lead in this seesaw spectacle, but a 12-4 run yet again by the Spurs established the team's desire to win tonight. Manu Ginobili played well, dishing an assist to Tony Parker for a 4-point play at the buzzer, making it 83-82 Spurs by a hair to end the 3rd quarter.
San Antonio's defense was stellar in the final period, led by Danny Green, Leonard and Kirilenko. The Spurs went up 100-90, and Paul Pierce was ice cold on the opposite end of the court. Some more flashy dunks trimmed the lead for the Clippers, but the Spurs stormed to a 15-6 close of the game.
Danny Green's three-pointer was the death knell.
Tony Parker had 10 assists, despite an off night shooting the ball. Kawhi Leonard had 23 points, Tim Duncan had 19 points, Ray Allen had 17 points (5-5 from 3PT), Ginobili had 16 points and 5 assists, Kirilenko had 13 points with 3 blocks and the Spurs went 15-15 from the charity stripe with 11 blocks.