The NBA Finals. Where Kawhi Leonard versus LeBron James happens.
It was only fitting that LeBron James stand in the way of the Spurs' "Quest for Four" championships in five seasons, with one of them belonging to the Miami Heat then-led by 'King James', the same team that bowed out to those same Spurs the next season. With LeBron back in Cleveland, the history came with it, along with the bad blood and passion to best the other once again. What happened would lead to a passing of the torch depending on who you talk to, a disappointed 'King', a spectacle of marksmanship by one of the league's best shooters before calling it a career, and a grand deal of excitement throughout.
Game 1 belonged to the Spurs by a margin of 8 points, 110-102.
Despite a slow start, San Antonio caught up to the Cavaliers even with Tony Parker struggling. Manu Ginobili dunked the ball so hard that it shocked the Spurs fans, and two quick fouls by Kevin Love made them cheer again. Ginobili matched a 3PTer by Mo Williams and Kawhi Leonard did the same, nailing down a dunk and a 3PTer of his own to take the lead.
Providing some humor, both teams missed layups but Danny Green got serious and made three consecutive long balls courtesy of sweet screens set by the Spurs. A 10PT lead was earned after Tony Parker stole the ball from Kyrie Irving and dished it to Leonard for another thunderous throwdown.
LeBron James brought the Cavaliers back within a 65-69 deficit but Tony Parker made his first shot and got rolling, thanks to some screens by Boris Diaw. He had 17 points soon and then Diaw blocked Irving for good measure. This led to a 3PTer by Ray Allen to spark an 11-2 swing, 81-67, but a run by Cleveland cut it to 6 in the final period.
Kawhi Leonard blocked 'The King' at the rim, but Tim Duncan was blocked by Kevin Love, who then missed a 3, and then LeBron was blocked again but this time by Tyrus Thomas. Kawhi Leonard got a dunk afterward, only to be answered by a 3 from James.
It was 88-96 with 4 minutes left to go, as Cavaliers cut the lead to 5 after two free throws were made by Irving and an inbound pass was stolen by LeBron for an easy stuff. Leonard responded with a long ball of his own and LeBron put too much behind a layup as the ball rolled out, only for Leonard to make one over the big man Anderson Varejao. Kawhi made another 3, followed by a layup for Shawn Marion and Danny Green stole a pass to Iman Shumpert, leading to yet another 3 by Leonard.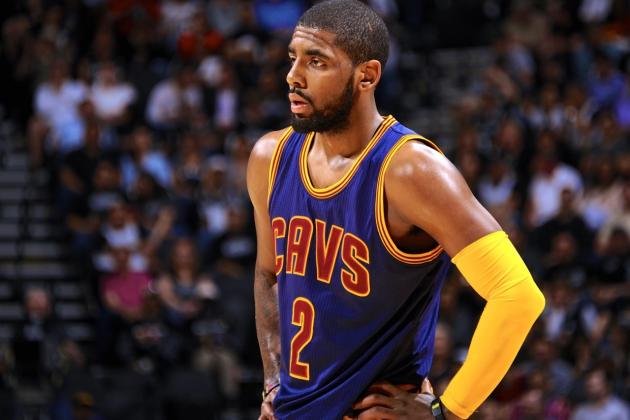 106-93, only for a 5-0 run by the Cavaliers, as a layup success resulted in James crashing to the floor and being lost on the ensuing play for San Antonio. A three-pointer by Irving rattled out thereafter, but Varejao was there for the tip-in. The lead was cut to 6 as Ray Allen and Danny Green both miss on the other end to increase the lead.
Shumpert would be blocked by Green, only for the ball to bounce back to Irving, who passed to Love, yet the 3-PT shot wouldn't drop for him. Varejao missed the hook shot off the rebound, and a fast break led to Shawn Marion's dunk for an 8 point lead. Tony Parker was fouled next and he iced this opening showdown at the charity stripe.
LeBron James had 25 points and 5 steals. Iman Shumpert had 19 points. Kyrie had only 17 points/9 assists on an icky 5-20 shooting display. Varejao had 13 & 11. JR Smith and Mo Williams combined for 18 points but Kevin Love was 0-4 on the floor and made just one free throw.
Kawhi Leonard matched LeBron's 25 points, Ginobili had 20 points with 5 assists, Parker had 19 despite the slow start, Green had 11, Allen had 9 and Duncan had 8&9. Diaw had 7 points and 3 blocks.
In Game 2, the Spurs played well out the gate, with the Cavs struggling, Kyrie missing at the rim due to SA's persistent defense. In a wild moment, Tony Parker made a block on LeBron.
It was 50-48 at the half, with Parker playing strong inside for 16 early points. LeBron James got a dunk past Kawhi Leonard's outstretched arm, and Tim Duncan got his 4th foul too soon. As a result, Anderson Varejao got 22 points as Cleveland took a 74-68 advantage, only for SA to go on a 6-0 run to weather the storm.
Iman Shumpert and Danny Green exchanged three-pointers, and then Danny Green made 4 more. A dunk by Kawhi Leonard gave the defending champions a 97-96 lead. Tony Parker would have the play of the game with a double-clutch layup over LeBron down low, giving 'the King' his 4th foul. A 19-6 run for San Antonio followed as the game fell out of reach. The Cavaliers tried to foul desperately but 'Spur-fection' led to a pass to Green who buried another 3PTer.
Tony Parker had 22 points and an excellent 16 assists, but Danny Green had 27 points and 7 threes. Kawhi had 17, Duncan had 12&11 despite foul trouble and Ray Allen had 21 points.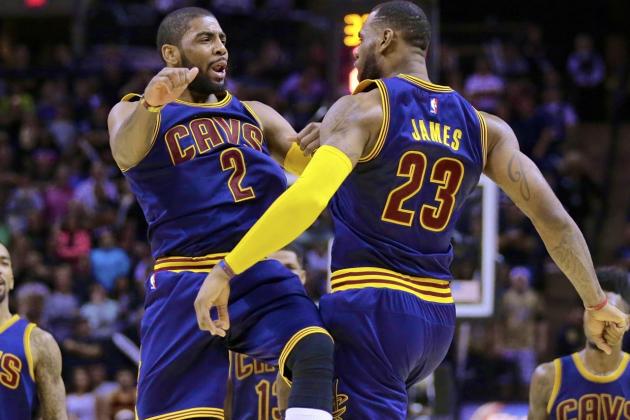 The Cavaliers finally struck back and snatched a 123-120 victory, despite a seemingly-flawless start for the Spurs. A 15-6 sparked this chance for Cleveland as SA's scoring stalled. The Spurs would have to play catch-up, and they never did.
But they had a shot, only for Green to miss a would-be game-tying 3 at the buzzer. Tim Duncan and Boris Diaw had awful showings, despite 28 points by Tony Parker with 16 assists. Kawhi Leonard had 30 points, Green had 19, but LeBron finally put the hammer down with 31 points, followed by Shumpert's 21, Irving's 22, Varejao's 15 and Kevin Love's double-double (14pts/10rebounds).
Oh, did the Spurs retaliate!
The defending champions won Game 4 big, 131-112. Kevin Love was knocked to the floor thanks to Tyrus Thomas' big dunk off a screen, and a steal by Leonard led to a dunk over LeBron. The 3rd quarter ended after Ray Allen made a 3PTer at the buzzer. A mountainous run by the Spurs followed in the final quarter, with Leonard earning a triple-double and the Allen-Green tandem crashing in deep shots. The Spurs won the 4th 39-27. Kawhi Leonard had 27 points, 10 rebounds, 10 assists and 4 steals. Ray Allen had 25 points on 7 three-pointers, Ginobili had 23 points, and Parker had 19 points with 13 assists. In the loss, James had 24 points/7 assists/7 rebounds (falling short to Leonard's stat line), Varejao had 20 points with 17 rebounds, Shumpert had 19 points, Kyrie Irving had 17 points with 12 assists, Tristan Thompson had 14 points with 10 rebounds, but Kevin Love went 1-6 from the floor.
Then the Ray Allen spectacle happened. The Spurs may have won only by 2 points (123-121), but they won in memorable fashion in more ways than one. The same player that burned the Spurs in Game 6 and helped steal a championship with the Heat not long ago scorched the Cavaliers. Ray Allen made
eleven
three-point shots in Game 5, shooting from another stratosphere and pushing the James-Irving-Love hydra into overdrive, then into submission.
The Spurs held a close lead late, but LeBron would not be denied a chance to save this series for Cleveland, cutting the lead to 2 and forcing a miss by San Antonio. Cleveland ball, 6 seconds left. Coach Popovich instructs the Spurs to foul the Cavaliers before they can take a shot, and it works.
Kyrie Iving made both free throws, tying the game but the Spurs now have fate in their hands. Immense defensive pressure by the Cavaliers forces the ball out of volcanic Ray Allen's grasp, who passes it to Kawhi Leonard, who hurriedly elevates over LeBron James and somehow sends the Cavaliers home as the ball goes through the net after a long 2PTer and the buzzer sounds the end.
Winning the championship for San Antonio, Kawhi Leonard established himself as the new leader of this team, including a spin move on LeBron that led to a dunk earlier in the game. Tony Parker would be named Finals MVP by a hair, scoring 20 points/6 rebounds/8 assists in this concluding game. Ray Allen stopped at 33 points. Ginobili had 18 points and 9 assists, sending a marvelous stepback 3 through Cleveland's eyes late in the 4th.
Despite being within 2-5 points for the duration of the 4th quarter, the Cavaliers fell behind 18 pts from LeBron James, 22 points and 10 assists from Kyrie Irving, 19 points and 10 rebounds from a resilient Kevin Love, 20 points and 17 rebounds from Tristan Thompson and 19 points from Iman Shumpert.