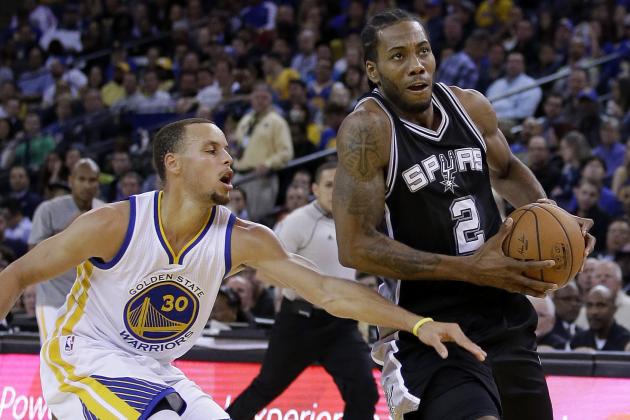 In a tightly contested first quarter, Ray Allen nailed a long ball at the buzzer to give San Antonio a 29-27 lead. With Tony Parker and Danny Green also nailing shots from deep, the offense was as strong as ever, especially with Tiago Splitter showing welcome aggression in the paint.
It was the 2nd quarter when the shots started missing, and two early fouls for Kawhi Leonard would lead to a struggle for backup Andrei Kirilenko to be effective. Luckily, the Spurs battled back for only a four-point deficit (47-51) at halftime.
In for a fight but striking well, the Spurs regained the advantage after the 3rd quarter (72-73) thanks to Leonard (14pts/8rebs) who shook off the early foul trouble and made some nice threes. Tiago Splitter (14pts/11rebs) also held strong down low.
For Golden State, Steph Curry (6-22) had seen better nights, but Klay Thompson (8-20) was playing well enough to make up for it and keep the Warriors in the game.
Channeling his inner Nate Robinson, little Ray McCallum threw down a huge dunk and drew the foul, making the free throw. Then the Spurs got a steal on the ensuing possession as the ball nearly went out of bounds after rolling down length of the court. San Antonio called a timeout and it led to a 3 by Ray Allen (9pts) off a screen from Tim Duncan (7rebs) for an 81-77 lead.
Tony Parker (18pts/7asts/6rebs) hit a second 3, followed by two more from Kirilenko (14pts) and a fourth from Danny Green (13pts), making it 93-103. Manu Ginobili (10pts) took over for Parker and netted a step-back jumper to seal the game. The Spurs outscored Golden State 22-33 in the final period.