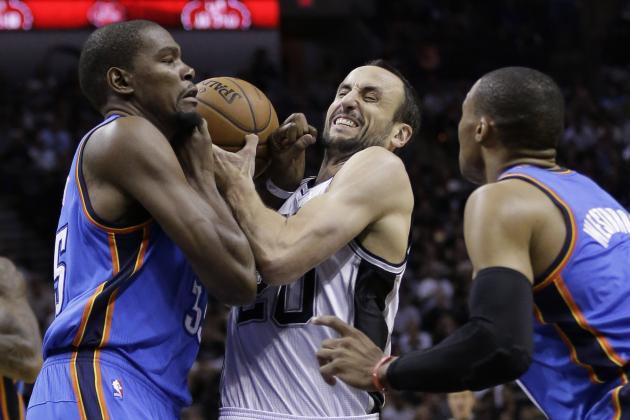 The 14-0 Spurs finally lost to a team that was firing on all cylinders, despite a valiant effort to pull off a comeback. Ray Allen had 21 points, heating up from distance after struggling in the first half with a starting role. Tony Parker went down fighting with 22 points and 12 assists, but Spurs needed more help.
Tim Duncan struggled to be effective against the trio of Ibaka, Kanter and Steven Adams down low, and so did Andrei Kirilenko who made his return to action, but with a whimper. Not helping the cause, Manu Ginobili had 6 turnovers which aided early dominance by OKC, despite making some 3s later on. Kawhi Leonard (5-13, 3-11 from 3) missed several crucial shots that might've changed the outcome, for Spurs had cut lead down to 3 late befofe the versatile OKC machine stormed on.
Kevin Durant had 26 points and 11 rebounds, Russell Westbrook had 22 points with 11 assists, but Dion Waiters (27 points) turned OKC into a monstrous hydra that swallowed San Antonio from every side. Enes Kanter and Ibaka combined for 27 points, 5stls and 2 blocks down low.
This defeat humbles the defending champions, who may have a showdown with OKC in the playoffs.